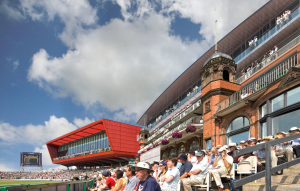 Croydon, 08 April 2014 – GGP Systems will be revealing the latest developments in gazetteer management software and GIS at the GeoPlace conference and exhibition at Lancashire Cricket Ground in Manchester of 29 April. The event also sees the presentation of the 2014 Exemplar Awards.
Now in its 9th year, the event brings together the addressing, streets and geographic information community together with industry suppliers, to listen to developments; share best practice and benefit from knowledge transfer.
GGP Systems will be demonstrating its suite of Gazetteer Management Software including the most advanced web based gazetteer search engine, GGP eNGz, and the company's latest street naming and numbering software, GGP SNN.
GGP NGz is used by local authorities around the country for managing corporate land, property and street databases.  GGP eNGz has been developed in association with Police Scotland to provide rapid address lookup in an area requiring ultra-fast response to online searches and is now being made available to local authorities, as well as other police forces and fire and rescue services.
GGP SNN is an easy to use software application developed in conjunction with several Local Authority Street Naming and Numbering Officers.  Designed to speed up and simplify the naming and numbering of new streets and recently-built properties, GGP SNN is a complete case management tool that handles correspondence, legal documents and task.
The GeoPlace annual event celebrates excellence in address and street information enabled service delivery across local government and recognise the vital role address and street information professionals play in local service delivery. Whether this be directly to the citizen who uses local government services or local authorities that are trying to find ways of delivering better services more efficiently.
The GeoPlace event takes place on Tuesday 29th April 2014 at the Emirates Old Trafford venue at Lancashire County Cricket Club in Manchester.  GGP Systems will be located at Stand Number 1A.
Contacts:
www.ggpsystems.co.uk
Reader enquiries to GGP Systems on tel +044 (0)208 686 9887
Editorial enquiries, contact Robert Peel on tel +44 (0)1666 823306
Colour separation requests to robert@market-it.co.uk
Notes to Editors:
GGP Systems specialise in GIS and Gazetteer Management solutions specifically designed for the UK public sector. The South London based company provides easy to use software for the creation and management of corporate property databases, the ability to add and use a spatial element to all location based information and a range of solutions to meet both national and international Government directives.