GGP Systems Ltd (GGP), a UK based supplier of Geographic Information and Address Management Systems, announced this week that in partnership with Blackpool Council, it has implemented a new Web Mapping solution aimed at providing Blackpool residents and businesses with information. Powered by GGP's latest web mapping technology, the first project implemented is a 'Brownfield Site Register'.
Blackpool successfully bid for 'Brownfield Register Pilot Status' and is helping to shape and develop the approach to brownfield registers. The experiences of Blackpool and other pilot authorities will feed into future legislation and guidance.
Please refer to the Blackpool web site for further information:
http://www.blackpool.gov.uk/Residents/Planning-environment-and-community/Planning/Pilotbrownfield-register.aspx
The Brownfield sites register may be viewed at
http://maps.blackpool.gov.uk/
Interrogation of the land parcels identified produces a list of information for developers on which they can make assessments.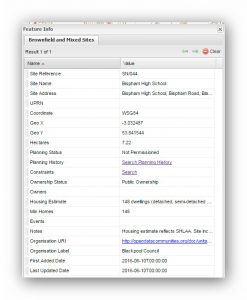 This is the first in a number of installations of GGP's new web mapping solution, providing the public and internal staff with access to council held information and is another step forward for GGP as it continues to extend its offerings within the public sector.
GGP is one of the leading Geographic Information Systems (GIS) suppliers nationally; with client sites located the length and breadth of the British Isles. It is British owned and based and is focused exclusively on the UK public sector.
As well as a leading supplier of Geographic Information Systems (GIS), GGP is also a major provider of systems for managing centralised address datasets as part of the National Land and Property Gazetteer (NLPG) and National Street Gazetteer (NSG).
Tim Maxwell, Managing Director of GGP Systems, says: "GGP Systems is very pleased that our new web mapping solution has been adopted by Blackpool Council. This is a prestigious pilot and both Blackpool Council and GGP staff have put in considerable effort to create this new website ahead of the deadlines set by Central Government". Download this article as a PDF.
Contact GGP Systems Ltd
John Hart
Business Development Manager
sales@ggpsystems.co.uk
Tel: 0208 686 9887 extn. 302