Croydon, UK, 04 February 2013- Geographic Information and Gazetteer Management software from GGP Systems is helping Wyre Forest District Council prepare for the introduction of Individual Electoral Registration (IER). This is a new system for registering to vote.  It is designed to reduce fraud and is being billed as the 'most important change in the electoral system'. IER will replace the current system of household registration with individual enrolment.
Using GGP's Geographical Information System (GIS) and Gazetteer Management Software (GMS) Wyre Forest District Council has been able to check the completeness and accuracy of their Electoral Register (ER) by matching data against other council records such as those used by council tax, waste and planning.
"At the moment one person in every household is responsible for registering everyone else who lives at that address," commented Mark Tipper, Business Improvement Officer (Data Management & Transformation) in the Chief Executives Unit of Wyre Forest District Council, "under the new system each person who wishes to vote will have to register individually. This important change requires significant preparation to make sure eligible voters remain on the register."
"The new system is due to be introduced in summer 2014.  We have already had a 'dry run' which involves sending our Electoral Registration database to the Cabinet Office for matching through the Department of Works and Pensions. Before we did this we did exhaustive internal checks using GGP software – a process called Local Data Matching," continued Mark. "The Electoral Register (ER) has been meticulously matched against our gazetteer – managed using GGP's advanced gazetteer management software, in order to check the completeness and accuracy of the data. In addition we have also matched the ER to other back office datasets, such as refuse, waste and planning records held in GGP's GIS."
In the 'dry run' to match the data Wyre Forest District Council matched 82.2% of records; significantly above the UK average of 78.1% and ahead of the West Midlands average of 80.5%.  The Council's Land and Property Gazetteer Officer, Mark Tipper, played a key role in aligning the records to contribute to the high matching percentage.  Mark recently won two Exemplar Awards from Geoplace the custodians of the National Address Gazetteer and National Street Gazetteer. He won 'Best in Region' Award and a Gold Award for address data.  The awards are designed to capture projects which make a difference and demonstrate to others the value of the information that local authorities manage on a day-to-day basis.
"Accurate and timely data is key to the successful implementation of IER – the more individuals we can match via back office methods the less forms, processing, postage, face to face meetings, visits, etc. we need to make. This ultimately saves the Council tim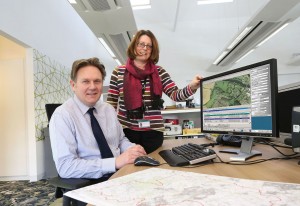 e and money," concluded Mark. "The management of change information is critical and using GGP GIS and gazetteer management software we can produce gap analysis reports for IER and other service managers across the organisation."
CONTACTS
 Reader enquiries to GGP Systems on tel +044 (0)208 686 9887
Editorial enquiries, contact Robert Peel on tel +44 (0)1666 823306
Colour separation requests to robert@market-it.co.uk
Notes to Editors:
 GGP GIS (Geographical Information Systems) is recognised as the leading desktop system for storing, capturing, analysing and manipulating geographical data and images. GGP GIS provides the ability to store complex mapped information and read from and write to spatial databases, meaning information can be effectively shared between departments and partner organisations. This eliminates isolated data silos, reduces data duplicity and improves system interoperability, as well as enabling the joining up of diverse datasets to provide a richer information resource.
GGP GMS (Gazetteer Management Software) has been specifically developed to ensure a consistent, up to date and accurate base for all property based information within an organisation. GGP GMS also manages the import and export of data between the local authority databases and the NLPG, the national hub, and the complete product suite was one of the first two software solutions to receive accreditation for address data transfer (DTF 7.3), is fully compliant with BS7666 and users of GGP software regularly achieve recognition at the national NLPG Exemplar Awards.
GGP Systems specialise in GIS and Gazetteer Management solutions specifically designed for the UK public sector. The South London based company provides easy to use software for the creation and management of corporate property databases, the ability to add and use a spatial element to all location based information and a range of solutions to meet both national and international Government directives.