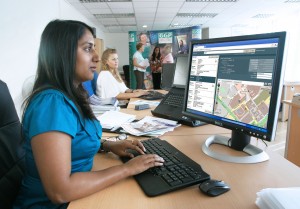 Gazetteer management software from GGP Systems has supported Staffordshire based Cannock Chase District Council in their efforts improve the quality of an essential council database. Using GGP NGz, the Council has topped the list of 348 local authorities for maintaining their address gazetteer and constantly improving the quality of address records within the organisation. The hard work and perseverance demonstrated by Cannock Chase Council was recently recognised at a prestigious national awards ceremony with the presentation of the 2012 GeoPlace Exemplar Award for Most Improved Authority Address Updates.
GeoPlace, the organisation responsible for the creation and maintenance of the National Address Gazetteer and organisers of the 2012 Exemplar Awards noted; "Over the last year Cannock Chase District Council has made great strides in resolving their health check anomalies, positional accuracy and street comparisons. They have reached gold standard for both council tax and business rates and moved up the national ranking scale by a staggering 256 places. A very well deserved winner."
"Having edited in excess of 25% of all records in one year it's great that the changes to our business processes and data improvements were nationally recognised," commented Sarah Pritchard, LLPG Custodian at Cannock Chase District Council. "GGP NGz gave us tools that allowed us to identify and resolve errors in an intuitive and efficient way and has supported us in reaching gold status for national improvement targets set by Geoplace. We are of course constantly working to improve and build our address gazetteer and hope that GGP NGz will help us achieve this."
GGP NGz is part of the award winning range of Gazetteer Management Software from Croydon based IT company GGP Systems. Specifically developed to ensure a consistent, up to date and accurate base for all property based information within an organisation GGP software also manages the import and export of data between the local authority databases and the NLPG, the national hub. The complete product suite was one of the first software solutions to receive accreditation for address data transfer (DTF 7.3), is fully compliant with BS7666.
– end –
Notes for Editors
GGP Systems is a Geographic Information Systems (GIS) and Gazetteer Management Software company that recently celebrated twenty years of trading. At the forefront of the development of modern GIS, GGP Systems was an early pioneer of desktop GIS and the NationalLand and Property Gazetteer, developing award winning geospatial software specifically designed for the local government market. From its inception in this market, GGP Systems has gone on to develop solutions for the Emergency Services – securing a national contract with the Scottish Police Services Authority (SPSA), Fire and Rescue Services, housing and environmental service organisations.