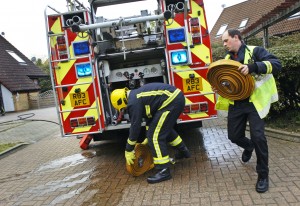 Bucks FRS has created a geographically accurate database of 13,500 fire hydrants using software from GGP systems
Croydon, UK, 07 December 2012 –  Gazetteer management software from GGP Systems is helping Buckinghamshire Fire and Rescue Service improve the safety of both citizens and fire fighters while still achieving significant cost savings. Using up to date address data from the National Address Gazetteer, Ordnance Survey mapping and field gathered data, Bucks FRS have created a geographically accurate database of 13,500 fire hydrants. This resource is used on a daily basis by crews responding to 999 calls, by officers undertaking Home Safety Checks and by control room staff supporting colleagues in the field. The fire hydrant database has also helped increase fire hydrant availability from around 90% to 99.7% and contributed to annual savings in the Water Management budget.
"The National Address Gazetteer data, managed using GGP NGz, has been instrumental in the creation and on-going maintenance of our fire hydrant database," commented Greg Edwards, Water Office at Buckinghamshire Fire and rescue Service (BFRS). "It is, in effect, the glue that holds all other information together. Using the gazetteer data and GGP software we have been able to identify hydrants, accurately record their position and condition and maintain and update this invaluable resource."
By compiling historical maps and textual documents, including 60 years' worth of 'Walk Books', BFRS created a base map of fire hydrants across the county. In an on-going data capture exercise Hydrant Inspectors, using rugged laptops loaded with Ordnance Survey maps and address data, are adding previously unmapped hydrants, amending the location of hydrants that were incorrectly mapped, and removing redundant or erroneously mapped hydrants. Regular updates of both the National Address Gazetteer and OS mapping are used to help make decisions regarding additions to the hydrant network, for example on new developments, and to assess provision in relation to risk, past incidents and home fire risk check priorities and campaigns.
GGP NGz is part of the award winning range of Gazetteer Management Software from Croydon based IT company GGP Systems. Specifically developed to ensure a consistent, up to date and accurate base for all property based information within an organisation, GGP software also manages the import and export of data between the local authority databases and the NLPG, the national hub. The complete product suite was one of the first software solutions to receive accreditation for address data transfer (DTF 7.3), is fully compliant with BS7666.
CONTACTS:
GGP Systems: Karen Barcoo at GGP tel. +44 (0)20 8686 9887, e-mail: Karen@ggpsystems.co.uk, www.ggpsystems.co.uk
For further editorial information and photos, call Robert Peel on tel. +44 (0)1666 823306
Please fax colour separation requests to fax +44 (0)1666 824668
Notes for Editors
GGP Systems is a Geographic Information Systems (GIS) and Gazetteer Management Software company that recently celebrated twenty years of trading. At the forefront of the development of modern GIS, GGP Systems was an early pioneer of desktop GIS and the National Land and Property Gazetteer, developing award winning geospatial software specifically designed for the local government market. From its inception in this market, GGP Systems has gone on to develop solutions for the Emergency Services – securing a national contract with the Scottish Police Services Authority (SPSA), Fire and Rescue Services, housing and environmental service organisations.