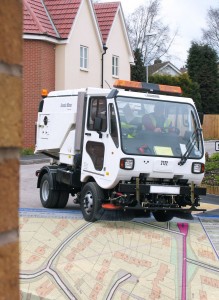 Croydon, 24 November 2011 – Environmental services company Urbaser is using the latest computerised mapping technology to coordinate street cleaning services on the Isle of Wight. Isle of Wight Council appointed Urbaser as its street cleaning contractor and as part of this selection process the Council identified the use of a geographic information system (GIS) as an essential component for delivering the service.  Urbaser will be using the GIS supplied by GGP Systems to map information such a bin locations, road sections and pavements to be cleansed as well as the planning work such as the clearing of fly tipping.
GGP GIS is a powerful system that helps organisations to maximise the potential of geographic information. The system allows managers to effectively plan and deliver routine cleansing services and to manage the response to ad hoc requests from the Council or members of the public.
"Using GGP GIS we have an overview of the complete contract, in fact, the complete island," commented Dave Wallis, Contract Manager for Urbaser on the Isle of Wight. "We can maintain detailed records of each and every asset, effectively manage our resources and compile accurate service delivery histories. As the Council are also users of GGP GIS, sharing of information is easy and we can produce customised management reports as and when required."
GGP GIS is recognized as the leading desktop system for storing, capturing, analysing and manipulating geographical data and images. GGP GIS provides the ability to store complex mapped information and read from and write to spatial databases, meaning information can be effectively shared between departments and/or other organisations. This eliminates isolated data silos, reduces data duplicity and improves system interoperability, as well as enabling the joining up of diverse datasets to provide a richer information resource.
CONTACTS:
Product sales enquiries Karen Barcoo at GGP tel. +44 (0)20 8686 9887, e-mail: Karen@ggpsystems.co.uk, www.ggpsystems.co.uk
For further editorial information and photos, call Robert Peel on tel. +44 (0)1666 823306
Please fax colour separation requests to fax +44 (0)1666 824668
Notes to Editors:
GGP Systems specialise in GIS and Gazetteer Management solutions specifically designed for the UK public sector. The South London based company provides easy to use software for the creation and management of corporate property databases, the ability to add and use a spatial element to all location based information and a range of solutions to meet both national and international Government directives.
For further information visit www.ggpsystems.co.uk
Urbaser Ltd is an environmental services company, who work internationally as one of the main operators in the environmental sector and a leader in waste management. Part of the accredited ACS Group Urbaser specialise in providing local councils, boroughs, autonomous regions and industries all types of environmental services. The continued growth and success of Urbaser is down to creating a culture that is focused on the clients needs.
For further information visit www.urbaser.co.uk