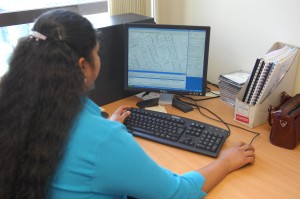 Croydon, Surrey – 7th December 2010 – Spatial software provider, GGP Systems, welcomes the announcement on 3rd December that GeoPlace, a new joint venture between Ordnance Survey and the Local Government Group, will create a new single source of address data, the National Address Gazetteer.  GGP Systems will be fully supporting and partaking in the consultation process to ensure its customers' interests are wholly accommodated.
The National Address Gazetteer will provide one central dataset that will replace the NLPG (National Land and Property Gazetteer) and OS MasterMap Address Layer 2.
Says Tim Maxwell, Managing Director of GGP Systems, "This is a really positive move for all connected to the GIS industry.  For a long time, customers have had to contend with two competing products, but this new single source of data removes duplication and means that local authorities, the emergency services and other public bodies will no longer have to pay to licence two separate sets of data.  That is great news for the public sector."
GGP Systems is reassured that the changes will not affect its customers.  The transition to the new dataset is expected to be a smooth, almost indiscernible process.  GGP Systems' customers will continue to be able to provide superior levels of service to their own internal and external clientele and their existing GGP Systems software portfolio and licences will not be impacted.
For more information, please contact GGP Systems on 020 8686 9887 or email sales@ggpsystems.co.uk or go to the website http://www.ggpsystems.co.uk/.
—— ENDS ——
GGP Systems specialises in Geographic Information Systems (GIS) and gazetteer management solutions for UK local authorities, the police, fire and rescue services and housing associations.
Contact information
For more information, please contact:
Karen Barcoo, Sales & Marketing Co-ordinator, GGP Systems Ltd.
karen.barcoo@ggpsystems.co.uk
020 8686 9887
Cygnet House, 12-14 Sydenham Road, Croydon, CR9 2ET
Generic photography is available – contact karen.barcoo@ggpsystems.co.uk